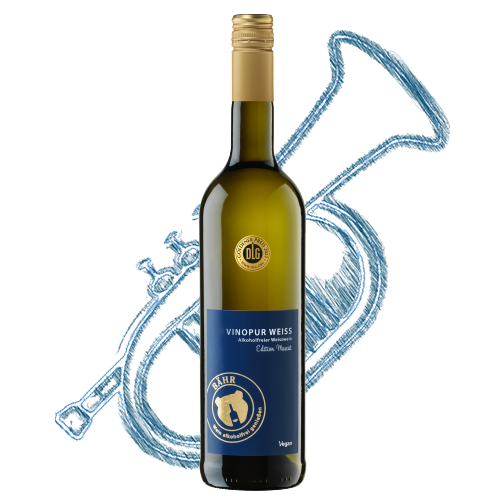 VINOPUR WHITE Edition Muscat 0.75l
Sale price
€16,00
Regular price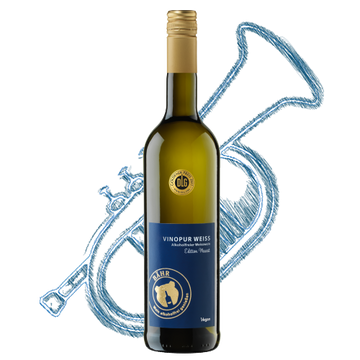 VINOPUR WHITE Edition Muscat 0.75l
Sale price
€16,00
Regular price
Non-alcoholic white wine
VINOPUR WHITE – Edition Muscat. Enjoy the fine fruity acidity and the typical but not intrusive muscat aroma of the yellow muscat. Full-bodied, the soft sound of the flugelhorn . Vegan, alcohol-free, no added sugar or flavors. A delicate interplay of fruit and sweetness presents the connoisseur with a colorful bouquet of fragrant roses!
Goes well with: roast beef with a herb crust, dark chocolate, Camembert with cranberries.
Awards in 2021: DLG – Gold; AWC Vienna – Silver; Meininger's Wine World – 84 points; Selection – Silver; Berlin Wine Trophy 2022: Gold
Ingredients: non-alcoholic quality wine, grape
benmost, carbonic acid, antioxidant:
Ascorbic acid, sulfur dioxide
Average nutritional values ​​per 100ml:
Alcohol content 0.2% vol
Calorific value 88 kJ / 21 kcal
Carbohydrates 4.6g
Of which sugar 4.6 g
Contains small amounts of fat,
saturated fat, protein and salt
Vegan
We process all orders within 2 working days.
It will then be shipped to your door in another 1-2 working days.
our bestsellers
Discover the shop
Sale price
€2,79
Regular price
Sale price
€2,79
Regular price
Sale price
€2,79
Regular price
FAQ
Frequently asked Questions.
We are founded & managed in Germany.
We ship throughout Germany.
Unsatisfied? No problem. Every order comes with a 14 day return guarantee.
Normally the package will arrive within 2-6 working days. Please apologize if there are occasional delays.
We work with SSL encrypted payment methods. We offer all common payment methods.
If you have any further questions, please write to our support team under "Contact". We are available 24/7 and look forward to hearing from you.
We usually respond within one working day.